Thanks to my friend Cathy at CAA, and my friend Lorenza, currently playing violin with H & O, I was able to get tix and backstage passes to Saturday night's show at the Borgata. I needed an excuse to go home and visit the family, and with the Hall & Oates Loser's Lounge a few weeks away, the timing was just perfect. The Borgata Event Center is a huge room: 2400 capacity, and they sold out 2 nights. Even though casino shows are padded with package deals and comps for high rollers, etc. this seemed like a crowd of true Hall & Oates fans. Including this duo: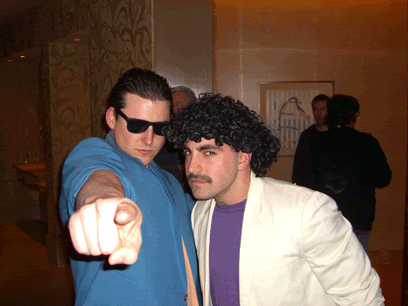 And this couple:

There were two other couples in their group with "Sara" and "Smile" and "Private" and "Eyes". So cute! It made me wonder if they were some sort of Hall & Oates-themed swingers group ("No I wore the mustache last time, it's your turn!")
My brother Tom and I walked in and they were playing "Maneater" to a surprisingly over-enthusiastic crowd. These shows are "all-request", so audience members enthusiastically hold up banners, hoping the band will play their favorite song (if the band knows it). According to Lorenza they know 30 songs, and they literally do have to jump to whichever song the band calls out, which keeps things exciting. Most of the signs were not too adventurous—nothing from "Sacred Songs" or "War Babies", though someone actually went to the trouble to make a "Free Bird" sign—couldn't security have confiscated that one? There was a sign for "Have I Been Away Too Long", which would have been great, but Lorenza told me that it wasn't in the repetoire.
Daryl's voice was in top form ("Me & Mrs. Jones"—BAM!), and the band, featuring long-time saxophonist Charlie DeChant, and T-Bone Wolk (now on guitar) was super-tight. The string section added a nice touch, sometimes covering synth parts. Who ever heard of string players putting synth players out of work?
Highlights included a piano-and-strings arrangement of "Wait For Me" and deep cuts like "Las Vegas Turnaround" and "How Does It Feel To Be Back". "Sara Smile" and "She's Gone" sounded just great. All in all, a great show, except when they played some "newer stuff", which lost me for a bit."I Can't Go For That" was their opportunity to "stretch out". Charlie DeChant did some nice sax work, but it just went on for too long. No "It's A Laugh", which they sometimes play (I shoulda brought a sign), and no "Rich Girl" (Daryl doesn't like performing it because it's "too negative"). They finished with a cover of "What's Goin' On", to which Daryl decreed, "every band must do this song, every night". A great song, indeed, but I'm not sure if that's such a good idea really.
Obviously some major hit songs were missing, so the first encore consisted of "Out Of Touch" and "You've Lost That Loving Feeling" (Honestly, I could've done without the covers). And then they came out once again for, of course, "Kiss On My List" and "Private Eyes".
After the show, I met my friend Lorenza (violinist to the stars) in the "strings" dressing room. Everybody felt that it was the best show, musically, and audience-wise. It was the last show on the 8 show mini-tour. Most of the band members came in to say the loved having the strings and want to include them for more shows in the future. No Daryl, but John came in to extend his thanks. In the hallway, we saw him introducing people to his parents, who seemed very nice.
Lorenza Ponce, violinist to the stars

The Loser's Lounge Tribute to Hall & Oates is at Joe's Pub in New York City. For tickets and info click here